The Essential Guide to Select Casual Blazers for Men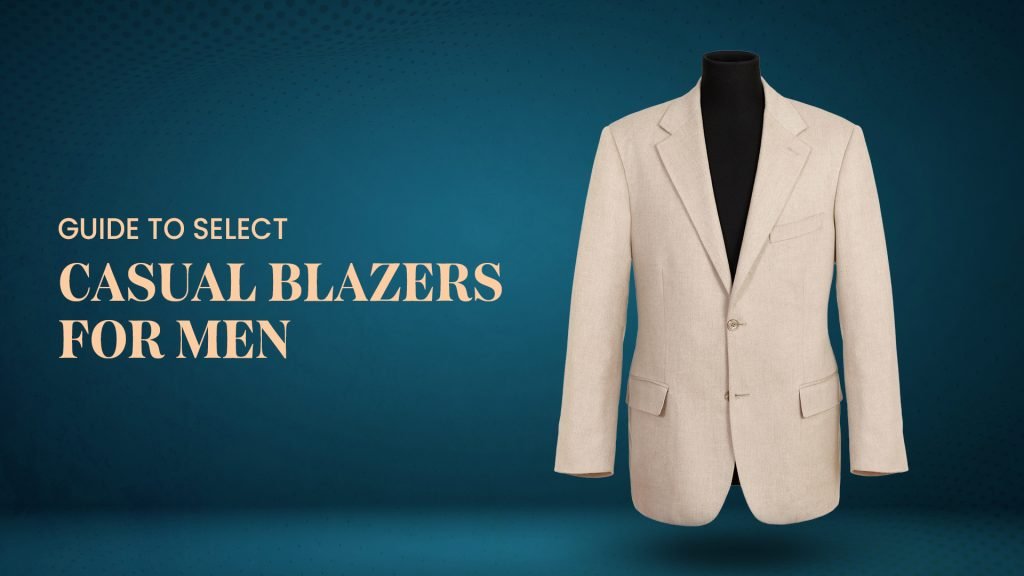 Introduction
Casual blazers for men effortlessly elevate any fashion-forward gentleman's wardrobe.
Whether you're going for a casual day out or a semi-formal event, a well-fitted casual blazer can add a touch of sophistication and charm to your overall look. Additionally, casual blazers offer versatility, allowing you to effortlessly transition from a polished daytime ensemble to elegant evening attire. 
With their timeless appeal and ability to elevate any outfit, casual blazers are an essential investment for the modern man. Explore the myriad of colors, patterns, and textures available, and discover the perfect casual blazer to enhance your personal style. In this blog, we will explore the different types of casual blazers, how to style them to create fashionable blazer outfits, and the various blazer materials used in their construction.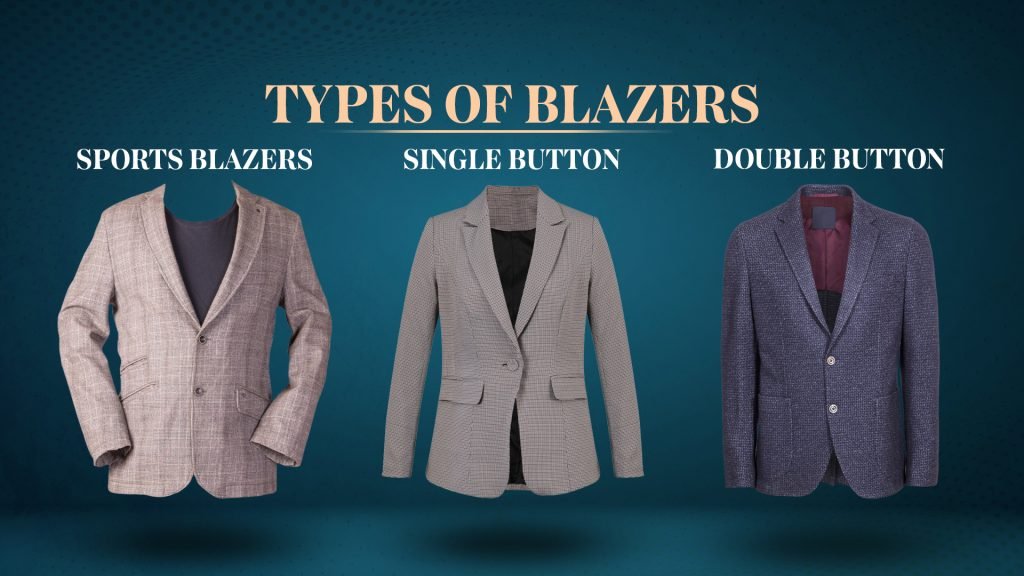 Types of Blazers
Single-Button Blazer
The single-button blazer is a classic choice for men. With its sleek single-button closure, this versatile garment effortlessly transitions from formal events to casual outings. This type of blazer, commonly referred to as a casual blazer, is characterized by its clean and streamlined appearance, making it a timeless option for men's fashion. Furthermore, the single-button blazer offers a sleek silhouette that effortlessly enhances the male physique, creating a polished and refined look. 
Its simplicity allows for easy pairing with various shirt styles, trousers, and footwear choices, making it a versatile piece for any wardrobe. Whether you opt for a neutral tone or a bold pop of color, the single-button blazer is sure to make a stylish statement wherever you go.
Double-Button Blazer
The double-button blazer is known for its sophisticated and formal appeal. It features two buttons on the front, creating a unique and elegant look. It exudes a refined charm that effortlessly elevates any ensemble, making it a go-to choice for special occasions and professional settings alike. Its structured silhouette and attention to detail, such as notch lapels and flap pockets, add an air of sophistication to your look. 
When styled in a more casual manner, such as pairing it with a patterned shirt and chinos, the double-button blazer strikes the perfect balance between formal and relaxed, resulting in a smart and polished appearance that commands attention. 
Sports Blazer
Sports blazers, also known as casual sports jackets, are designed with a more relaxed and informal aesthetic in mind. Crafted from intricately textured fabrics, these distinguished pieces showcase an array of captivating patterns and exclusive designs.
 Sports blazers are perfect for achieving a smart-casual look and can be easily paired with jeans or chinos for a stylish and effortless outfit. Sports blazers add a touch of laid-back sophistication to your wardrobe, allowing you to effortlessly elevate your casual attire. 
Their textured fabrics, such as tweed or herringbone, provide a distinct charm and lend a rugged yet refined appeal. Whether you're attending a weekend brunch or heading out for a social gathering, sports blazers offer a versatile and fashionable choice to express your personal style. Embrace the relaxed elegance they bring and make a statement with your ensemble.
Q1: Why is the single-button blazer versatile?
A1: The impeccably tailored silhouette effortlessly adapts to any occasion, from formal affairs to relaxed gatherings, making it a versatile wardrobe essential.
Q2: How does a sports blazer differ?
A2: With its effortlessly laid-back vibe, this design embraces a relaxed and informal aesthetic, characterized by textured fabrics and one-of-a-kind patterns.
Q3: What distinguishes the single-button blazer from other types?
A3: The sleek, minimalist design and single-button closure of this garment effortlessly adapt to any setting, be it a formal affair or a casual gathering.
Q4: Why is the double-button blazer suitable for special occasions and professional settings?
A4: Its sophisticated appeal, with its two-button front design and refined details, strikes the right balance between formal and relaxed styling.
Q5: How do sports blazers differ from other types?
A5: Sports blazers, with textured fabrics and unique patterns, bring a laid-back sophistication to casual outfits, perfect for achieving a smart-casual look with jeans or chinos.
How to Style a
Casual Blazer
Now that you have a casual blazer in your wardrobe, let's explore how to style it to create fashionable blazer outfits:
Pair with Jeans for a Casual Look
For a stylish and effortlessly cool look, pair your casual blazer with a well-fitted pair of jeans. Opt for dark-wash jeans for a more sophisticated appearance or go for a lighter wash for a relaxed vibe. Add a crisp white shirt or a stylish patterned shirt, and complete the look with leather loafers or sneakers to create a fashionable and casual outfit.
Dress it Up for Formal Occasions
Elevate your casual blazer effortlessly for semi-formal or formal events by coordinating it with well-fitted trousers, a crisp dress shirt, and a harmonizing tie. Opt for complementary colors to craft a cohesive and polished ensemble. Complete the ensemble with dress shoes to achieve a formal elegance that is suitable for various events.
Layering with T-Shirts for a Contemporary Look
For a more casual and laid-back outfit, layer your casual blazer with a simple T-shirt. Choose a solid-colored T-shirt or opt for a subtle pattern to add some visual interest. Achieve a contemporary and laid-back aesthetic by pairing your casual blazer with slim-fit trousers or chinos, along with stylish sneakers. For both laid-back outings and weekend gatherings, this ensemble embodies the essence of effortless and relaxed style.
Are you Confused? Read the below Tips.
Tip 1: 
When aiming for a stylish casual look, pair your casual blazer with jeans to create a balanced ensemble. Opt for dark-wash jeans to exude a sophisticated appearance, or go for a lighter wash for a more relaxed and laid-back vibe.
Enhance the outfit by adding a crisp white shirt or a patterned shirt, and complete the ensemble with either leather loafers or sneakers. This combination effortlessly combines fashion and casualness, resulting in a fashionable and relaxed outfit.
Tip 2: 
To dress up your casual blazer for formal occasions, it's essential to choose the right elements. Begin your ensemble by combining it with impeccably tailored trousers, adding a touch of sophistication and refinement to your look.
Select a dress shirt that complements the blazer and trousers, and add a tie that coordinates well with the overall color scheme. Pay attention to color coordination to create a cohesive and put-together look. Complete the formal ensemble with dress shoes, adding a touch of elegance that is suitable for various events and occasions.
Tip 3: 
If you desire a contemporary and laid-back appearance, layering your casual blazer with a simple T-shirt can achieve that effortlessly cool vibe. Opt for a solid-colored T-shirt to maintain a clean and minimalist aesthetic, or choose a subtly patterned one for added visual interest. Pair the blazer and T-shirt combination with chinos or slim-fit trousers, which create a more tailored and polished look.
Finish off your attire with a pair of sneakers, guaranteeing a relaxed and comfortable vibe to your overall look. This stylish ensemble is perfect for casual outings or weekend gatherings, effortlessly blending contemporary fashion with a laid-back attitude.
Casual Blazer Materials
The choice of blazer materials can significantly impact the overall look and comfort of a casual blazer. Here are some common blazer materials used in their construction:
Cotton Blazer
Cotton blazers are lightweight, breathable, and perfect for warmer weather. Embrace a laid-back and effortless appearance with these garments that effortlessly combine comfort, freedom of movement, and a casual aesthetic. Cotton blazers are ideal for creating a laid-back and effortless style, making them a popular choice for casual occasions.
Linen Blazer
Linen blazers are known for their exceptional breathability and lightweight feel. Ideal for the summer season, these blazers effortlessly infuse a hint of refinement into your casual ensembles. Linen blazers effortlessly combine comfort and style with their relaxed fit, providing an abundance of both. They are a great option for achieving a fashionable and breezy look in hot weather.
Tweed Blazer
Tweed blazers are a classic choice for colder seasons. They are made from wool and offer excellent insulation and durability. Tweed blazers exude a vintage charm and can be styled in various ways to create a timeless and sophisticated look. They are perfect for achieving a stylish and elegant outfit during the colder months.
Note: When choosing a casual blazer, give careful consideration to the materials employed in its crafting, as they play a crucial role in its overall quality and appeal. Cotton blazers offer a lightweight and breathable option, ideal for warmer weather and creating a relaxed style. Linen blazers, on the other hand, provide exceptional breathability and a touch of sophistication, perfect for summer outfits. For colder seasons, tweed blazers made from wool offer insulation, durability, and a vintage charm. Understanding the characteristics of different blazer materials allows you to choose the right one to enhance your desired look and comfort level, ensuring a stylish and versatile addition to your wardrobe.
Conclusion
Integrate casual blazers for men as a vital component in crafting fashion-forward ensembles that exude versatility and style. By understanding the different types of blazers, how to style them to create fashionable blazer outfits, and the various blazer materials used, you can confidently select the perfect casualblazerthat suits your personal style and occasions. 
Unleash your personal style and flaunt your fashion-forward sensibilities with the limitless styling options that casual blazers offer, allowing you to express your unique individuality.
From pairing them with jeans and a crisp white shirt for a refined yet relaxed look, to layering them over a turtleneck sweater for a more elevated ensemble, the options are limitless. 
When it comes to casual blazers, Royal Men offers the perfect choice for men seeking style and sophistication. Explore our website to discover a wide range of blazers that combine timeless elegance with contemporary fashion. So, embrace the sophistication and charm of casual blazers for men and elevate your fashion game with these versatile wardrobe staples.