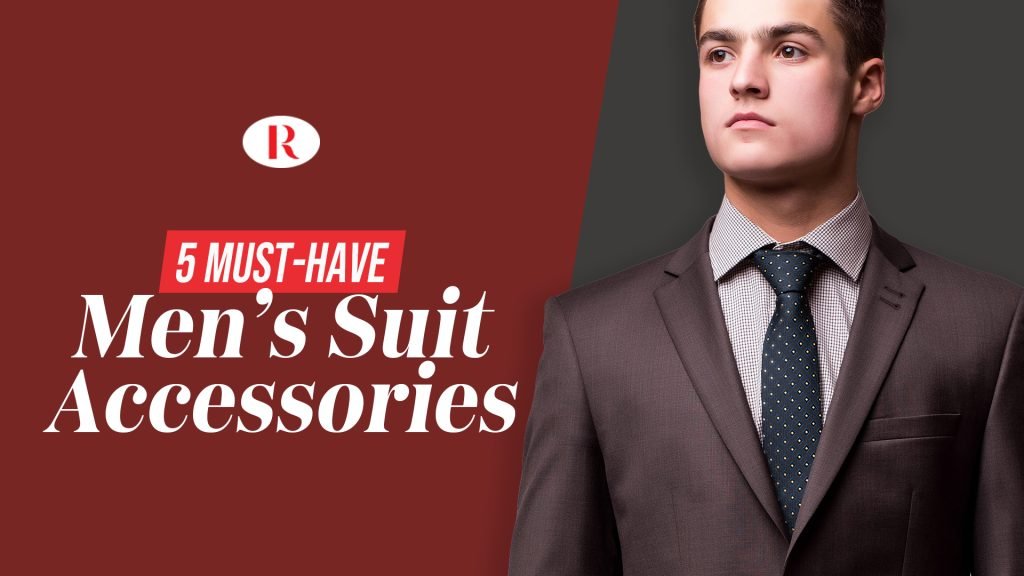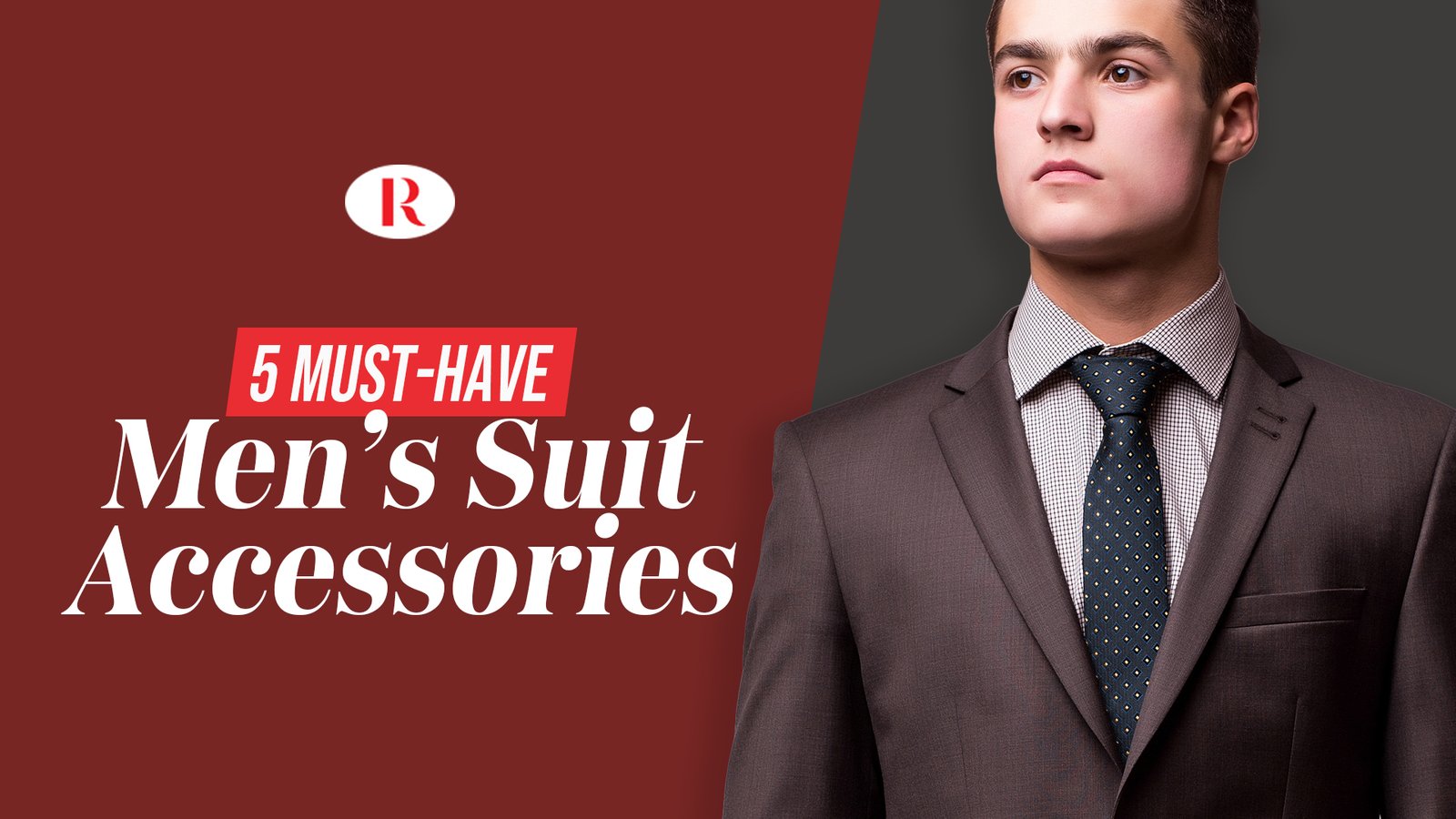 5 Must-Have Men's Suit Accessories to Complete Your Style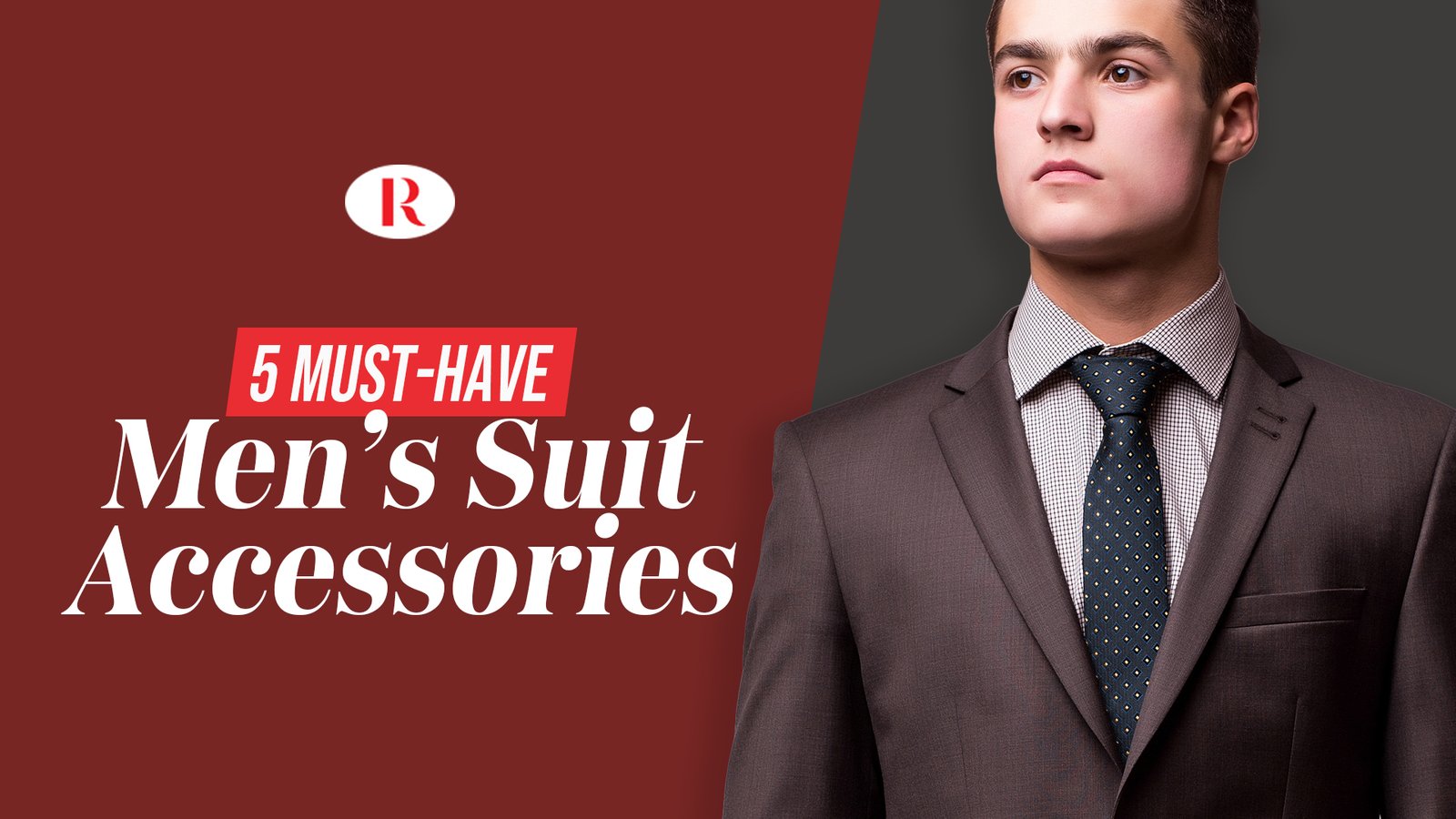 A well-tailored suit is the ultimate way to display sophistication, charm, and elegance. To leave an impactful and confident impression, the selection of appropriate accessories is crucial. The market is flooded with an array of men's suit accessories, which can make it challenging to determine the right fit for you. Therefore, gentlemen, let us commence this stylish journey without delay!
What accessories should I wear with a Suit?
Are you looking to spice up your daily office attire or add some personality to your outfit for a special occasion? Check out these suit accessories that can help you do just that! And if you're a groomsman getting ready for a wedding, we've got you covered with the top 5 best suit accessories for the big day and beyond. Take your outfit to the next level with these essential accessories.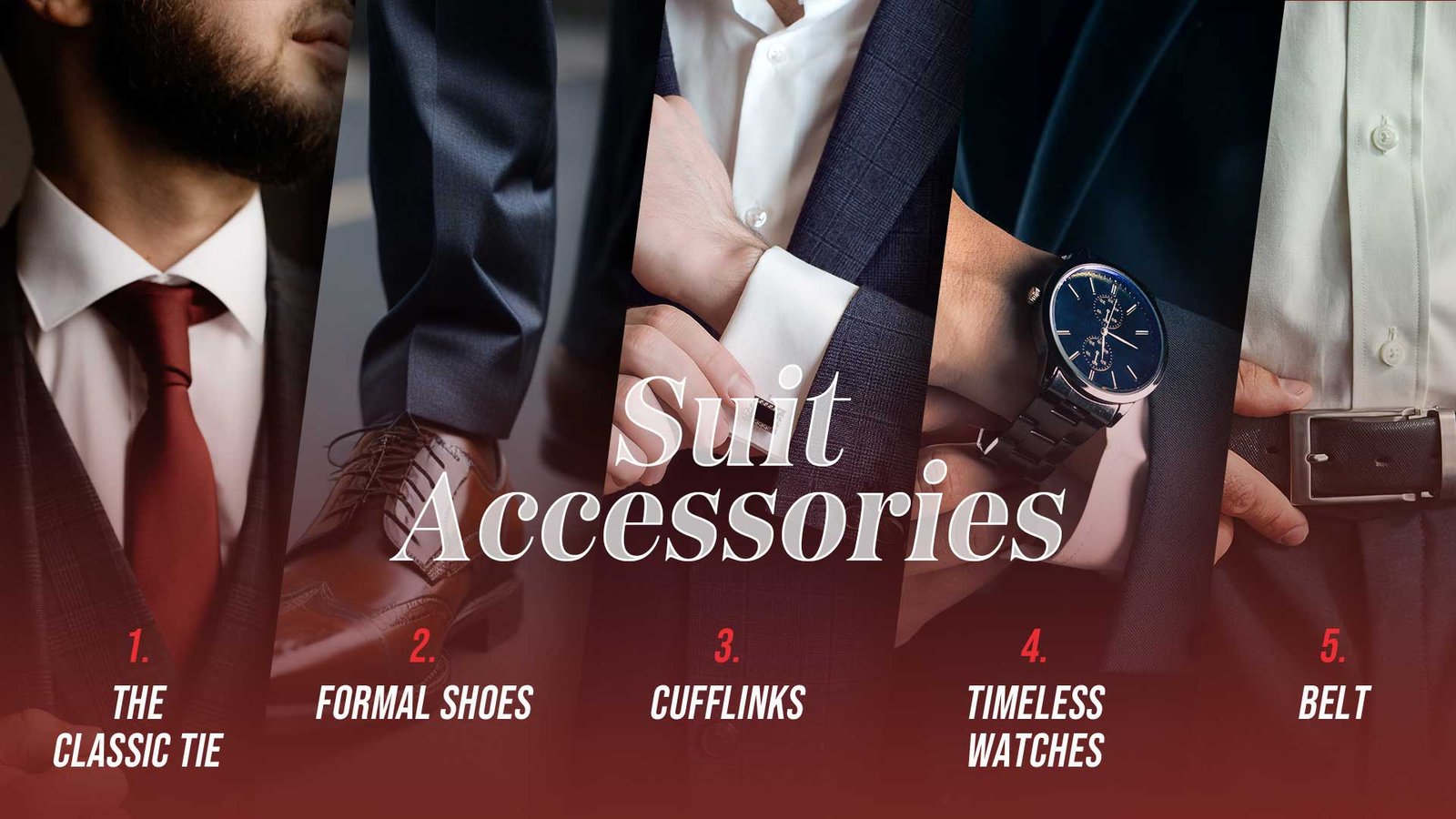 Wearing a suit is a great choice for anyone, but the way you accessorize it can make you stand out. Here is a complete list of accessories to consider:
The Classic Tie: Making a Bold Statement
A classic tie is an absolute must-have Men's suit accessory, providing a sophisticated touch to your overall outfit. It is important to choose a tie that complements your suit color and pattern, whether you opt for a timeless silk tie or a textured knit tie. It's important to select the right tie to achieve a sophisticated and stylish appearance.
A perfectly symmetrical knot reflects your impeccable taste and attention to detail. Keep in mind the importance of a well-chosen tie, as it can either enhance or detract from your outfit. Remember, the little things count!
Formal Shoes
It's a commonly known fact that shoes have the power to either enhance or ruin an outfit. When it comes to accessories for men's suits, formal shoes are the most important. Just imagine, you're dressed to perfection in a well-tailored suit, but your shoes are scruffy and worn out. This would instantly detract from your overall appearance.
How to choose the right shoes for your suit?
Choosing the right shoes to complement your suit can be quite a daunting task. However, I recommend visiting a shoe store while donning your suit and carrying your preferred belt to make the process a lot easier. By doing so, you'll be able to accurately match the shade of your shoes to your outfit, whether you prefer black leather or brown.
When dressing up in a suit, it's absolutely essential to have impeccably maintained shoes. To ensure you select the perfect pair of footwear, simply follow these guidelines and consult the accompanying table for additional clarity.
Sophisticated Cufflinks: Enhancing Your Wrist Game
Cufflinks are the perfect example of subtle luxury, a small accessory that says a lot about your refined taste. They can replace ordinary buttons on your shirt cuffs with exquisitely crafted designs, instantly enhancing your appearance. There are many options to choose from, including classic monograms and quirky designs that allow you to express your personality. These sophisticated accessories are a subtle yet effective way to showcase your keen eye for detail and finesse.
Timeless Watches: The Perfect Fusion of Style and Functionality
A timeless watch is more than just an accessory – it represents sophistication and achievement. The perfect watch can smoothly take your outfit from daytime to evening, projecting confidence and expertise. Pick a design that complements your personal style and sits comfortably on your wrist. Whether you prefer a refined leather strap or a stylish metal bracelet, a sophisticated watch will always be a go-to accessory for the contemporary man.
Belt – A stylish Essential
Last but not least, a high-quality leather belt is a non-negotiable accessory that brings the entire outfit together. It's not just about holding your trousers up; a well-chosen belt can enhance your look and provide a polished finishing touch.
Picking the Right Belt When it comes to belts, match the color and material with your shoes. Brown leather belts pair wonderfully with brown shoes, while black leather belts complement black formal shoes seamlessly.
Conclusion
Adding the right suit accessories can transform your look, confidence and charm. The timeless tie, perfect formal shoes, sophisticated cufflinks, classic watch, and striking belt are all crucial elements that take your outfit to the next level.
Get all your designer suits, formal and casual Blazers and suit accessories from Royal Men's Wear, one of the best wedding suit designers in Bangalore. We understand the importance of accessories in elevating your distinguished look. Our extensive collection offers a diverse range of men's suit accessories, carefully curated for their meticulous attention to detail and exceptional quality. Step into our store in Bangalore, and our expert stylists will guide you through a personalized shopping experience to find the perfect suit accessories that resonate with your personality and style.
Step up your style game with Royal Men's Wear accessories. With our collection, you can upgrade your style, leave a lasting impression, and make a mark in the fashion world. So why wait? Start revamping your wardrobe today!