TRENDING FASHION OUTFIT FOR ROYAL MEN-ROYAL MENSWEAR COLLECTION- OWN IT LIKE - A ROYAL DRESS UP
When it comes to dressing a gentleman, Royal menswear provides him with the best. It's time for all the men in town to add more value to your look with Royal menswear.
Go quickly, Royal with the Blazers.
A blazer is a type of jacket that looks like a suit jacket but is cut more casually. A blazer differs from a sports coat in that it is a more formal garment made of solid colour fabrics. Blazers frequently have naval-style metal buttons to reflect their origins as boating club jackets. Blazers have long been associated with elegance and royalty. One of the most noticeable ways to look royal is to wear blazers. You can do this with a variety of blazer styles and types.
Begin with the Casual blazer, versatile and flattering on most body types. For everyday business suits, go with a single-breasted black blazer. Alternatively, invest in a slim-fit grey blazer for a winning look at a job interview. Choose a smart-casual blazer with navy blue checks and pair it with a bright V-neck T-shirt, chinos, and derbies to impress all the ladies at a posh pub.
Choose a peaked lapel brown double-breasted blazer. Pair it with a light-colored shirt and black trousers for a big business presentation. You could also go with a blue blazer with your pattern. Pair it with blue trousers and a lightly patterned tie for a wedding.
Shawl collar blazers are more formal and eye-catching. They are only used for black-tie and red-carpet occasions. Select a navy striped tuxedo blazer with a pocket square. Wear it with a white polka-dot shirt, a maroon bow tie, and oxfords.
Men's peaked lapel blazers provide a more daring look. You can wear it to a formal event or a special occasion such as a Christmas party or even a wedding.
DRESS FOR THE CLASSY EVENING WITH THE SUIT
A suit, also known as a lounge suit or business suit, is a set of clothes that includes a suit jacket and trousers made of the same fabric and a collared dress shirt, necktie, and dress shoes. In Western dress codes, it is considered informal wear. In nineteenth-century Britain, the lounge suit first appeared as a more casual alternative to sportswear and British country clothing.
Wedding suits for men are a must-have in any man's wardrobe. Choose a traditional colour, such as navy or black. Combine it with a white shirt and a maroon silk tie. Wear lace-up brogues with this men's designer suit look, spritz on your favourite scent, and relax.
A business suit is essential for feeling confident in any formal setting. Choose one of our men's designer suits in a regular fit for easy movement. Wear a light blue formal shirt underneath, a dark blue tie, and oxford shoes to complete the look.
According to history, it is known as a 'dinner jacket' in the United Kingdom, but a tuxedo in America. These are evening men's designer suits made of satin or a glossy fabric that catches the light well. It also has a stripe that runs down the lapels and the side of the pants, making you ideal for that perfect evening.
This is an ethnic, gents suit design based on Indian culture. It's also known as the Jodhpuri design. They are frequently confused with the Pathani suit design for men, but the difference is that the pants are more fitted. This outfit's popular color combinations include black, red, green, and pastels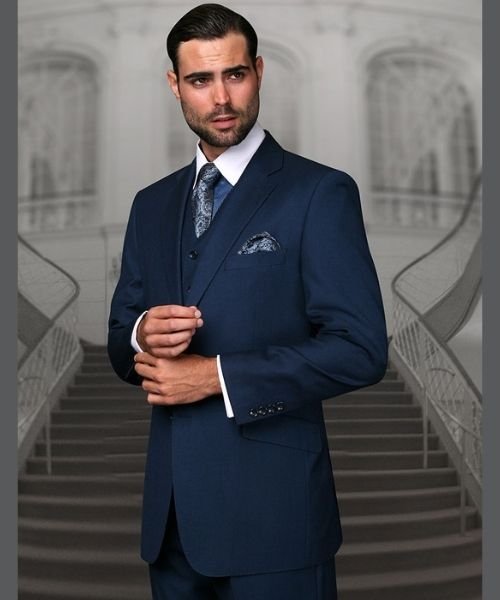 Coming from Italy, when a gentleman wants to be dressed to the nines, Italian suits are difficult to beat. They are streamlined, enhance the silhouette, and are comfortable to wear.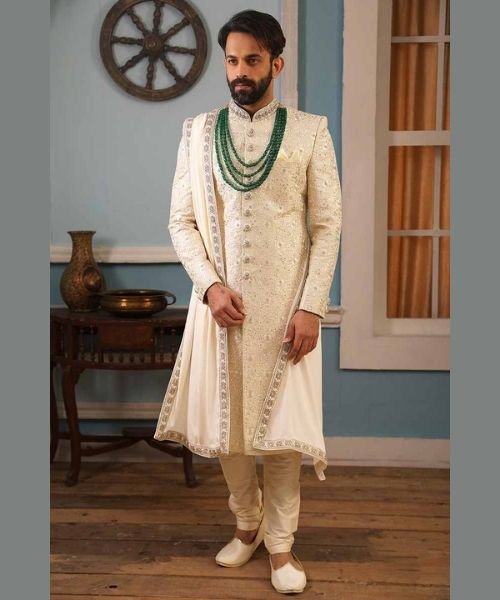 Be wedding-ready with the shiny Sherwani
Men in South Asia wear sherwanis, which are long-sleeved outer coats. It is fitted, with some waist suppression, like the Western frock coat, falls to below the knees, and is buttoned down the front. It can be collarless, with a shirt-style or stand-up collar like the Mandarin collar.
Sherwani has entered the international fashion scene as an ethnic alternative to suits at weddings and traditional occasions. However, there are many more ways to wear a sherwani than the traditional style.
A dark-colored, embroidered sherwani with matching pajamas and a princely neckpiece will give you a rich, warm, and cozy appearance throughout the wedding rituals and reception ceremonies. This outfit can be accessorized with a pair of contrasting mojaris. Accessorize with pocket squares for added opulence.
The groom's friends and family can choose humble-looking sherwanis in colors that complement the groom's style while still looking different. For example, if the groom is wearing a golden and green sherwani, groomsmen can look suave by wearing a red and white sherwani or kurta.
Designer sherwanis with dhoti or pajamas are the best choices for traditional occasions. However, sherwanis with achkans will make you look anything but fabulous. Consider accessorizing your sherwanis with jewellery and trendy mojaris or juttis to complete the traditional look.
Become traditionally Royal with the Kurtas
Traditionally, kurtas are made of cotton or silk. It can be worn plain or with embroidered decoration, such as chikan, and it can be worn loose or tight in the torso, typically falling just above or below the wearer's knees. A traditional kurta's front and back are made of rectangular pieces, and its side seams are left open at the bottom, up to varying lengths, to allow for movement.
Looking for an ethnic look that is both fashionable and functional for college? Choose from our printed or checked short men's casual kurtas that are waist length. Wear them with jeans and brown leather sandals for a fusion look. To complete the look, pair it with a sling bag or backpack. For college events, try longer kurtas for men with asymmetric hemlines, high-low hemlines, and curved hemlines.
Pathani kurtas for men originated in modern-day Afghanistan and Pakistan, are very popular in India. Wear a bright red or yellow Pathani kurta with slim-fit jeans, juttis, and a Nehru jacket. This is a stylish outfit for any Indian wedding-related event.
You can stock up on grand designer kurta sets for the great wedding receptions—team up a gorgeous maroon and black self-design kurta with a mandarin collar. The set comes with an off-white churidar. Wear black semi-formal slip-on shoes with tassels, and you can even choose to indulge in a color splash with a blue kurta-churidar set which features bright maroon jackets.
MAKE YOUR ROYAL WAY WITH CLASSY FORMALS
Looking for a not-so-bold checked shirt? Our extensive collection of formal shirts will assist you in this endeavour. Men's formal shirts with micro checks are available. Make a business presentation and impress everyone by dressing in a red and white checked shirt with a black collar; pair the sweater with a pair of black trousers to leave a lasting impression. Complete the look with a blazer and oxfords.
Choose floral-print formal wear shirts for men for a pleasant vibe. Choose a navy blue floral shirt with a spread collar and a curved hem for your next night out. It looks great with white cuffed trousers and boat shoes. Jackets will help you up to your style quotient.
To impress your colleague, purchase a solid white shirt with a button placket and spread collar. Wear it with black slacks, leather derbies, and a sophisticated black watch. You can even pair this with a blazer and tie for an official meeting.
Do You Want To Look Good And Feel Good In Your Clothes? You've Come To The Right Place. ROYAL MENS WEAR & TEXTILES Promises To Enhance The Value Of Your First Impression.
Royal men's wear is a one-stop shop for all things related to men's clothing. We have a wide range of suitable products for your flexible lifestyle, whether it is an office look or a casual look. We have a clothy-solution for all the men who don't seem to have enough clothing options. Customers' clothing needs will be met with a collection of broad styles in men's wear, royal men's wear, and textiles.